Sprint Freight & Logistics/Lochert Transport
Online order entry and tracking - Select ONLINE ORDERING !
To arrange a pick up you can still contact us:
Adelaide on (08) 8262 4044 or 0458 410 200
Head Office (08) 8541 0200
or for your local depot please CONTACT US
Please note:



New rates apply from 1st September 2018.
Please contact us if you haven't received them.
The notification can be downloaded HERE
Sprint Freight and Logistics have introduced online order entry and tracking. Started 29 August 2016 and phasing in over the next few months. 
Existing customers can be emailed login details. See example HERE.
New customers and those ordering for others need an account set up. Please complete and send us the APPLICATION.
CONTACT US if you have any questions.
Company profile
The Lochert Family have been supplying General, Refrigerated and Bulk Transport services to Waikerie, and the Riverland for three generations.
To meet the growing needs of their customer base Sprint Freight and Logistics was introduced, which is a customer focused freight service offering an overnight express service throughout Adelaide, Riverland, Sunraysia, South East South Australia, and Western Victoria.
Whether it's a small parcel, right through to a full load, Sprint Freight and Logistics can get your freight moving.  
Sprint Freight and Logistics… Your local freight experts.
Lochert Transport has vast experience in freight solutions over many years, distributing freight around Australia and around the world. We understand that you, the customer don't want problems you want solutions! You want the job done right the first time so that you can get on with your business.

With our transport heritage in produce we understand that timeliness is of paramount importance and that at times production issues are not always predictable, this is why flexibility and communication is important in delivering service.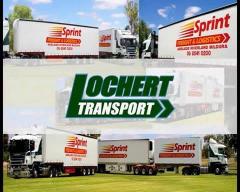 View our television comercial